Instructors
Our Army JROTC program is administered and taught by two retired Army career personnel, each with over 20 years of active military service. Certified by both the U.S. Army and the State of Oregon to teach Junior ROTC, they have many years of experience working with young people and a firm commitment to help students become successful as leaders and citizens.
Senior Army Instructor
Lieutenant Colonel Dwight Morse (Retired)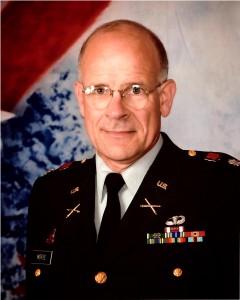 Lieutenant Colonel Dwight E. Morse was born and raised in Portland, Oregon, graduating from Lincoln High School in 1970. He was appointed to the U.S Military Academy that year, graduating from West Point and earning his commission as a second lieutenant in the Field Artillery in 1974. He served in a variety of position in a Field Artillery units in the United States, Germany, and Korea, including command of two batteries and assignments as a battalion and brigade operations officer. He taught for three and a half years in the English department at the U.S Military Academy and for three years in the center for Army Tactics, U.S Army Command and General Staff College, Fort Leavenworth, Kansas. His final active duty assignment, from 1993 to 1995, was as the Professor of Military Science at The University of Mississippi. While at Ole Miss, LTC Morse was responsible for preparing senior ROTC cadets to become commissioned officers, and it was here also that he had his first exposure to Junior ROTC.
LTC Morse earned a Bachelor of Science Degree in Russian and Soviet Studies from the U.S Military Academy and a Master Degree in Philosophy from the University of Texas at Austin. He is also a graduate of the Army Command and General Staff College. He retired from active service in 1995 to return home to Oregon and start up the Junior ROTC program at North Salem High School– the first in the Willamette Valley.
Lieutenant Colonel Morse's awards and decorations include the Meritorious Service Medal with three oak leaf clusters, the Army Commendation Medal with three oak leaf clusters, the Army Achievement Medal, the National Defense Service Medal with bronze star, the Korea Defense Service Medal, the Overseas Service Ribbon with numeral two, the Army Service Ribbon, the Ranger Tab, and the Army Parachutist Badge. He is a recipient of the Crystal Apple Award, presented annually to the top educators in the Salem Keizer School District.
Army Instructor
First Sergeant Jim Wagner (Retired)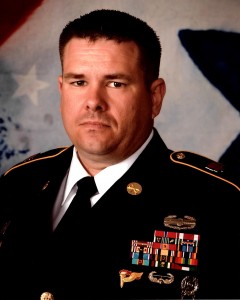 First Sergeant Wagner was born and raised in Bremerton, WA. He moved around extensively, throughout Washington, and graduated from Bremerton High School in 1988. He moved to Hawaii in 1989 when his dad was stationed at Pear Harbor and later joined the Army in 1990 while living in Honolulu, HI.
 He attended One Station Unit Training at Ft. Knox, KY, Home of Armor and Cavalry, where he learned how to be a Cavalry Scout. His first assignment was at Ft. Riley, KS from September 1990 to November 1994. He and his wife Pam were married in 1990 right after arriving at Ft. Riley. Within 3 months of assignment, 1SG was deployed in support of Operation Desert Shield and Desert Storm. He served as a Scout, Training NCO and Squad Leader.
Additional assignments include Schofield Barracks, HI from January 1995 to October 1997, Ft. Riley, KS from October 1997 to June 2000, Seattle Recruiting Battalion from June 2000 to September 2003, Ft. Wainwright, AK from September 2003 to June 2007, Brigham Young University Senior ROTC Battalion from June 2007 to July 2009 and Ft. Knox, KY from July 2009 until his retirement in February of 2010. He has served as a Section Leader, Platoon Sergeant, Recruiter, Recruiting Station Commander, Operations NCO, Operations Sergeant Major, First Sergeant, and Senior Military Instructor.
His awards include the Bronze Star, two Meritorious Service Medals, the Army Commendation Medal with Valor, six additional Army Commendation Medals, multiple Army Achievement Medals and the Combat Action Badge. He is Pathfinder, Air Assault and Rappel Master qualified. He has attended numerous other military schools. He is also a member of the Sergeant Audie Murphy Club, recognized as one of the top enlisted leaders in the Army and has received the Draper Armor Leadership Award for individual performance.
1SG received his Bachelors in Science in Public Administration and has started working on his MPA with an emphasis in Homeland Security. He and Pam have been married for 20 years and they have three children; Courtney, Ashton, and James Jr.